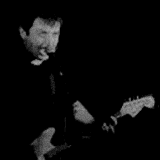 Matt Murdoc
Plays: Fender guitars and Marshall amps. Shreds his vocal chords occasionally too!
&nbsp
D.O.B. 13/03/1978
Hello folks, Matty Murdoc here!
I'm the front man vocalist and supporting guitarist for SCSI. I've been with the guys here for about four years I guess and it's been real fun. This is the bit where I tell you a little about myself - so here it is - try not to fall asleep cos I'll be asking questions later!
I was born back in 78 and got my first toy guitar and drums when I was 2 years old. My mum tells me that I was quite happy to mosh around the house at that time while listening to The Police on the radio, so I guess it's where the seed was sown. That drum really pissed my parents off!
My first serious musical interest was manifested at the age of about 13, when I met Forest of Dean rave rockers EMF and received some beginners guitar tips from their guitarist/writer Ian Dench (he's now writing for Beyonce - tut tut Ian!!). My main influences at that point were bands like The Pixies, Queen and Def Leppard and shortly afterwards, the enevatable and awesome rise of Nirvana. Dave Grohl became and has continued to be, a massive influence and inspiration to me and it was he who got me in to the drumming thing really seriously and so that was the next step.
I got my first proper drum kit from 70's battle of the bands winner Wayne Peart of The Crack and proceeded to play it to death (much to the dismay of my family and neighbours!) Soon, I was proficient enough to play along with the acts that were playing and my mums pub at weekends and at the age of 15, I was sure that drumming was for me and I wanted to take live music a little more seriously. I later sold that old drum set to a young Dave Humphries of the 4ft Fingers, whom I later drummed for in their earlier incarnation of SubterFudge.
My first proper band with gigs and money involved was the old Cheltenham classic band Vicious Rumour with the legendary bassist and vocalist Stephen "Woody" Wood and classically trained local guitar efficeinado Jim O'meara. We pretty much owned the local music scene for a year or two and a lot of fun was had although we mostly played covers. After a couple of years of that along with fronting a brief band of my own The Beavers and a stint with the 4ft boys, I did a little session work locally and started to focus a little more on the guitar. At this point I bought a classic sonic blue 1969 Fender Mustang which I still own and cherish in spite of it's disgusting sound and condition!
Shortly afterwards on my 18th birthday I moved down to London for 9 months with a friend of mine the late great guitarist of The Clap, Martin Joans. We joined a band called Trigger Finger who were already signed to Empire records and managed by a company run by Sex Pistols manager Malcom McClaren (big wanker). That year we supported the likes of Green day, Kula Shaker and a number of other popular bands of the time and shared a rehearsal space at backstreet studios in Holloway Rd with Menswear and Suede.
The next London project that I was involved with was Tilted a later incarnation of Cotswold alternative rockers Jelly with Steve Belcher, Dan Maitland and John "Dr Blindo" Lewis. It was all good fun but I soon returned home to Cheltenham because my dear uncle Vince had become terminally ill and I had developed a drug problem which was being amplified by living in London. On returning home, I focused more on cleaning up, my family and getting my mental problems sorted for a few years (never really managed to sort that out but shit happens eh?).
I still continued to write and record my own songs at home as a means of therapy and did the occasional solo gig locally with my acoustic guitar. I was often called in to cover for other musicians locally at that point too in various bands and even recorded a few radio jingles for Severn Sound Radio (some of my finest work - what a wanker lol). By then I was working full time too as a Porter at Cheltenham General hospital and had begun my martial arts training with The Iwo Samurai Karate Kai kan, I later made the switch to Iron fist Wing Chun, which was far more effective for me - it's still my second love after music.
At 24, I was back on the drums again for local brit pop band The Nod with Darren Belcher and Darren Macdonald. We recorded the Dust E.P which was well received and got a little radio air play, but I couldn't commit and after a couple of bad relationships and choices at that point in my personal life, my head got a whole lot worse and I took a break. I became a little reclusive after this but still remained a bedroom writer/producer throughout that period and still have lots of tapes of songs I recorded on my own back then.
In mid 2003 I was bumming around the rave scene and bumped in to my old school buddy James Price and a whole other bunch of awesome guys who were in the late planning phases of opening The Music Culture Development Project (MCDP). If you haven't heard of that little place then you've been under a rock! I was asked to jump in with them to help co-ordinate the live music side of things and it was here that I was introduced to SCSI! I started Jamming with Timmy Hills the following summer and originally I auditioned for the band shortly afterwards as a drummer - but it was no good, I'd lost my touch! After a lot of persuasion, Tim talked me into learning the vocal parts for the songs and reluctantly, after cutting a deal by which I could still play guitar too - I was chosen as the man for the job! The rest as they say is history.
Since then, as well as SCSI, I've continued to enjoy writing and playing music at home and have continued my Wing Chun training as often as I can with Randy Williams' CRCA school, although I don't get to attend class as often as I'd like it's still good to train from home. Randy is a bit of a legend. He has been bodyguard for the likes of U2, Johnny Depp, Eric Clapton and Steven Segal to name but a few and he's amongst the funniest people that I've ever met. Everyone should know a Wing Chun Master!
Adam recently described me in his new book as having "a voice like a man with rabies with boiling nails in his throat" I'll let you make your own decisions there! With the recent addition of the supremely talented Martin Van Dyke of Panic Switch on drums, I can only say that working with these guys along with Dr Dave Saunders of The Shining Lies is a real honour and a pleasure. We only do this because we love it and we love you.
If you've never seen us play live then you should put it on your list of things to do. Thanks for reading and enjoy the music. Drop me a line here if you're really really bored. I'm always open to new ideas, chatting, friends and fight opportunities!
Love Always.
Matt "Murdoc" Savory
xX