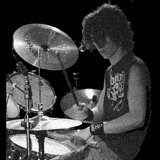 Martin Van Dyke
Plays: ddrum and Sabian
D.O.B. 16/11/1990
I have, in the past, been compared to Alan Partridge.
I was born in Lincoln at the start of the last decade of the last century of the last millennium. After a short while my parents moved down to the heart of the Cotswolds. Cheltenham to be precise.
I fell off a table when I was about five after dancing on it in just my socks and pants and ended up with a scar on my cheek. I'll now fast forward a bit to spare you your sanity and me my dignity.
I was always interested in music, and still am. This would be thanks to my late Grandfather who was a drummer in various jazz bands and my Father who also a drummer in various bands. Both my parents are keen music fans so I was always listening to something old and catchy ;)
I played my first gig when I was 2 on a pair of congas at the now closed Axiom arts centre. Which, due to the awful, shitty council, still remains a ghost building of a once thriving live music and performing arts centre.
I didn't properly start practicing the drums until I was 12 when I was given my first drum set. It was a piece of shit but it certainly got me started in the right direction. As I got better on the drums, I met a handful of budding musicians at secondary school with whom I have played many jams and gigs with since. I started out with playing for the school steel band in year 7, unfortunately I was playing the steel drums seeing as they already had a drummer. They soon realized my superior/basic skills for drumming and I replaced their original drummer after about a month.
Later I joined the school Jazz band which helped me progress a lot. In fact it wasn't long until I was renowned as an 'excellent drummer for my age' around the school. From year 8 until then end of school, I pretty much spent very lunch break drumming the music with other people. It wasn't until the end of year 9 that I formed my very first band 'The Fiery Shadows' with guitarist Josh Bunting, bassist Sam Ogden and guitarist Jed Brown. We played our very first gig in the school drama studio a couple of months after forming. This was to be our last gig in the studio because we blew the PA system. This was also our last gig under that band name and that line up because, quite frankly we sucked.
About a year later we joined up with new guitarist Ben Stanley and vocalist Alex Vujakovic . After much thorough practicing of just one song, we entered the school Battle of the Bands. Which we came second in. No matter though because not only did we play an encore of the exact same song that we'd just played, we realized that we'd actually formed a decent band.
This band became the post thrash metal experience that was known as Panic Switch. I played many amazing gigs with bands in great venues such as Gloucester Guildhall, The Point in Cardiff, The Vic Inn in Derby, and of course the 2 Pigs in Cheltenham among others. Unfortunately, 3 years and a few lineup changes later, Panic Switch ceased to be and I was without a band for the first time in years. I was found drifting in and out of doorways, after the bands split, weeing myself and drinking strong shandys. Of course I am joking.
Just before Panic Switch split up, I became acquainted with my brother from another mother. Murdoc. In turn, I was introduced to the band I am in now, SCSI. It wasn't until the end of 2009 that I officially joined the band, but I studied hard in the preceding few months by attending the practices and drinking their beer, respectively.
It is now with my good friends Murdoc, Tim Hills, Adam Goodfellow and Si Messenger, that I play the role as drummer 'extraordinaire' as I put it.
I have since also collaborated with a punk/funk/metal/reggae /ska band called Talk To The Hoof. Not for the faint hearted or the musically retarded though.
I have now reached present time.
My name is Martin Van Dyke.